History of La Cuverie de Citeaux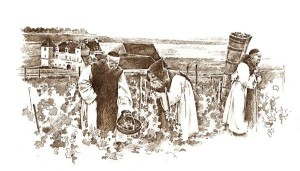 Since the thirteenth century, the Cistercian Abbey receives donations of goods from the territory of Savigny, especially from vines that were rented out to individual wine growers. Then from 1580, a priory was established in Savigny, headed by a prior responsible for ensuring productive cultivation and stewardship of the local heritage. It was necessary to build a large building to receive the grapes harvest, to vat it, press it, make the wine, barrel it and to store it.
The winery was therefore built, probably on an already existing cellar, with a large area for vats, and a press, all located rue de Citeaux (now rue Paul Maldant).
On the front of the winery is carved the well-known inscription which can still be read today:
 

SI BENE COMMEMINI CAUSÆ SUNT QUINQUE BIBENDI HOSPITIS ADVANTUS PRÆSENS SITIS ATQUE FUTURATUM VINI BONITAS ET QUÆLIBET ALTERA CAUSA – 1772

« If I recall correctly, there are five reasons for drinking: the arrival of guests, the actual thirst and the future one , the quality of the wine, and any other reason that pleases – 1772 »

 
 

The winery was used until 2006, before being restored from 2011 to 2013.